Our house is surrounded by trees and bushes which is normally a nice thing considering the temperatures during a normal summer. Unfortunately this summer is not really what it is supposed to be. Its cold and rainy. This has the unfortunate side effect the all that nice spiders which are normally populating the trees around the house are trying to share our shelter.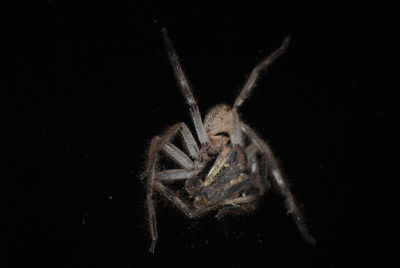 Here you can see our guest from last night, just digesting a big moth which it caught on the outside of our kitchen window.
Sometimes even I am impressed. This one had at least 12cm length even after embracing its pray. Luckily it was gone this morning or I would have had to convince it to search for shelter somewhere else. I don't like spiders which are so big that they might be able to carry our little daughter away.