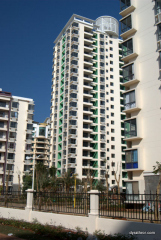 On Haidian Island in Haikou where I am living they are constructing new buildings all the time. I guess the result will be a complete and modern part of Haikou because the old houses, step by step, have to give place to construction sites.
Unlike in Germany or Europe the chinese companies are not building and decorating a complete building until it is finished but they are building the the structure and normally enter windows and doors and than they are finished for the moment.
When an appartment is sold the new owner has to decorate the appartment, construct walls in the appartment to seperate it into rooms, kitchen and bathroom, lay a floor, make the electricity and so on until the appartment is ready for living.
This proceeding gives the customer the freedom to decorate the appartment exactly as he likes. The disadvantage of this naturally are the living conditions I am living in because as long as there are still undecorated appartments there will be the noise of construction work to finish them.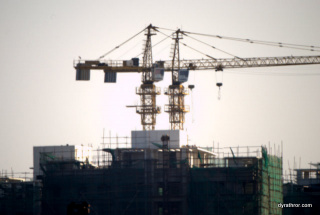 Here turnes up another habit in China. Unlike people in Europe the workers in China work seven days a week. There is no such thing as free weekend for normal workers. Except for the Spring Festival when the whole China is traveling home for holiday there is the noise of construction around me every day.
I take this as motivation to work nearly every day too 🙂
The good point, specially when you come from Europe, is that you can go shopping every single day in the year and this from the morning to the at least 22:00 and also your favourite restaurant will not have a day off when you choose to eat there which I had often when I thought about having dinner outside on sundays while I was still living in Switzerland 😉
At last I would like to show you an image of the new driving range not far from me with some old barracks still inhabited in the front and the new buildings already in the back.