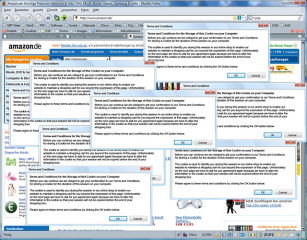 In Europe an EU directive has to be implemented in all member countries as law according to the subsidiarity principle of the European Union. Unfortunately the work of the European Parliament often doesn't make it into the news so that the public is involved early enough to be able to take part in the discussion of interesting matters.
This interesting part of the democratic process in Europe should be discussed separately one day. At the moment, as I just read on Spiegel Online, they are reworking article 5 of the directive for privacy and electronic communication. The idea is to implement a mandatory procedure of agreement for the storage of each cookie which a website wants to store on your computer.
On the positive side the idea to protect the internet user from being tracked by services like Phorm against its will is a good intention! But in the ideas for a technical solution of this problem the politicians again show their lack of technical understanding. The idea to pop up a windows with the terms and conditions you have to agree to, so that the website is allowed to store a cookie on your computer, will lead to the situation that most users will allow all cookies in general to be stored instead of sensibilizing the user to the problematic that their surfing behaviour can be tracked by missuse of cookies.
The problem is a very delicate one because on one hand the user wants the service which is provided by the use of cookies like that he is remembered by websites, be it for a login into a forum or a personalized advertisment when surfing on amazon. On the other hand no user will agree to work on several Pop-Ups for each page he is visiting.
What I don't understand is that politicians increasingly search for technical solutions for legal problems. My discomfort is that within this process there seem to be no technical skilled professionals involved. Therefore these decisions may lead to more damage then good. And please keep in mind that legal problems cannot be solved with technical measures.